Avail the five choices for your improved and new roof!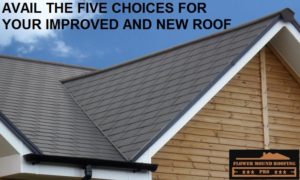 If you are thinking to design your roof, then you have a lot of roofing style choices that you can select based on your needs. From concrete to slate roofing, there a lot of options that you can offer to your customers and hence they can further make the decision accordingly. At, Flower mound roofing company , we can help you select a particular choice for your roof as per the need that you may be having. So, here are the lists of five most popular choices of roof that you can select based on your needs.
Energy efficient shingles :- Shingles with star rating help to improve the efficiency of your home as well as give the protection that is needed. The shingles are designed in a way such that it can help in the reduction of heat at your home, reflect the sunlight, etc. Also, the energy-efficient shingles can help you to save a lot of electricity bill and save your roof from UV damage which can help to prolong the lifespan of your roof.
Composite roofing :- Composite roofing means that the roof is made using various types of materials during the process of manufacturing. One of the famous composite roofing is simulated roofing as it is made using resin as well as rubbers taken from tires. Composite roofing comes up with affordable roofing pricing, and it is considered very durable and long-lasting.
Slate Roofing :- Slate roofing is not very difficult to install, and they last for a very long period. Also, it can cope up with all the weather condition as it comes with damage-resistant properties which can be helpful even in worth climate and temperature. Slate roofing is available in varieties of colors such as red, grey, black and green and you can select any of them based on the choice that you may be having.
Clay and concrete tiles : – Concrete and clay tiles can give a very pleasing look, but at the same time, they can be costly as well. They have a certain specific requirement for installation, and they may be ideal in warm climates having rainfall. Further, they are designed for a long term purpose, and they are available in varieties of color and designs. Also, they require very little maintenance, and they can easily sustain harsh climates.
Asphalt and Asphalt Fiberglass Shingles :- Most of the roof shingles that are available these days are made using asphalt fiberglass shingles. The shingle has fiberglass mat embedded within it which can add to the strength, and they can be quite a resistance towards the wear and tear. These shingles are used for sloped roofs as they are very sturdy, cost-efficient and they are available in various colors as per the choice that you may be having.
Above are the mentioned roof that you can select based on the choice and need that you may be having. Also, if you wish to have a Roof repair in Flower Mound or want to install a new roof, then you can get in touch with an expert roofing contractor who is licensed.