What are the ten best ways for temporary roof repair?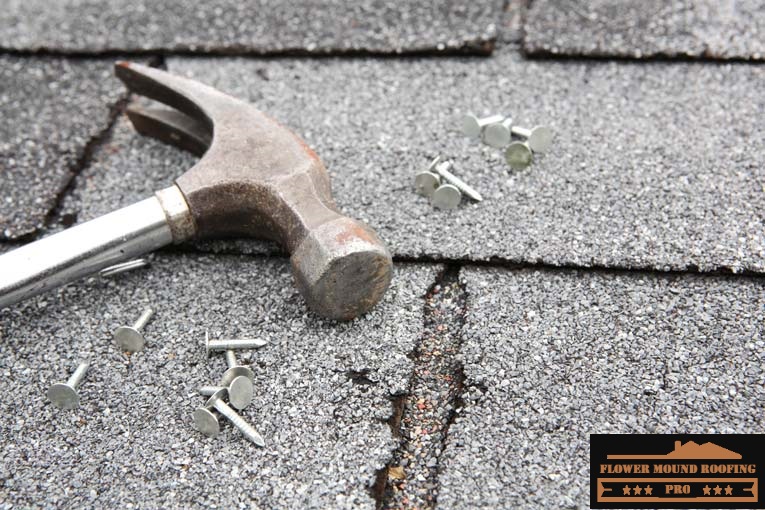 Roofing repair is the task of a professional roofer but that doesn't mean that you always have to wait for them to come and do the job. Specific ways can save you in the time of crisis like the holiday season, non-availability of the roofer, roofer waiting for the shingles to be delivered and other factors that are not in your control. Here are 10 ways taken from the professional roofing contractors in Flower Mound Tx, these are not the permanent fix but will definitely help you at the eleventh hour:
Get rid of curved shingles-The first step for repair is to get rid of any curled shingles on the roof. You can soften the curled shingles using a heat gun and gluing them.
Slide the loose shingles -You can also slide the loose shingle under the row above it and the nail it down. This will work for the time; later you can call your roofer to do the job make use of the 6d galvanized nail.
Seal the cracks- In case you notice an opening, you can seal it by using cement. It would prevent the roof and will also seal the cracks.
Use plastic- Cover the broken areas with plastic. If you notice any hole on the roof or there is a breakage, you can seal it immediately with a plastic. You must make sure that should not be any leakage as it can worsen the effect of hail storm damage.
Place the bucket under the leaking area- Stopping the leakage of your roof is essential, in case it's raining and you cannot do anything to seal the leakage, you must place a bucket under that area so that the interior of the house is not damaged.
Get rid of hanging siding- If your siding is hanging, missing or loosened. Make sure you have the QLC tarp the siding to prevent further damage.
Trimming the extra and over-grown branches– Get rid of hanging trees or branches, often the shingles of the roof tend to get damaged because of falling branches or twigs, you can get rid of their problem by cutting and trimming them down at a regular interval will stop them from reaching your roof. An over-grown tree or branches, not only damage them but in case of a massive storm, they can also adversely affect the roof.
Use high-grade material-Make sure that the roof is made up of high-grade material like asphalt shingles which can resist environmental damage.
Regular inspection– It is the best way, keep a check on the weather report, and you can contact your roofing contractor. This prevention is better than cure step will save your roof from any damage.
Contacting the roofing contractor – In case the damage to the roof cannot be mend by you, you can do that by contacting the roofing contractor.